Free registration.

Access to bulletin board, buy on the online shop, subscribe to newsletter, play to Webgames...



Subscribe
NEW: the Webgame Pandocréon Cromlech in WAP version at http://pdcr.net !
Pandocréon Divinæ

Divinæ is a card game that uses a dice. You are Gods, fighting to get more power, searching for believer's prayers.
2 to 6 players
20 to 60 minutes
8 years old and above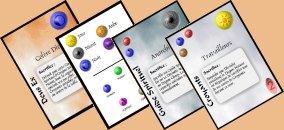 Download
Download the following files to build your own game:


| File | Version | Weight | Language | Notes |
| --- | --- | --- | --- | --- |
| Build manual | 1.0.0 | 40 KO | fr | |
| Game rules | 1.0.0 | 520 KO | fr | |
| Cards | 1.2.2 | 2,5 MO | fr | A4 format |
| Cards | 1.2.2 | 2,5 MO | fr | Printer format (42x35 cm) |
| Cosmogony dice | 1.2.4 | 30 KO | fr | Stickers to put on a 6 faces dice |
| Game box | 1.2.0 | 1,6 MO | fr | To make a box for the game |
| Jacket | 1.0.0 | 490 KO | fr | Jacket for video tape box. Replace the game box. |


You can also get the source files: